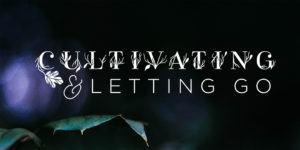 Cultivating and Letting Go
A Lenten theme from "A Sanctified Art"
Cultivate (verb): to prepare and use for the raising of crops; to foster the growth of; to improve by labor, care, or study; to refine; to further; to encourage.
Let go (verb): relinquish one's grip on someone or something. Lent is a season of spiritual gardening, of inviting God to unearth in us what lies fallow, what needs to be tended, and what needs to die for new life to emerge. This Lent, we're embracing the literal and spiritual practices of cultivating and letting go.
Lent Devotionals
Cultivating and Letting Go
This year, we will once again use the fantastic Lenten resource by A Sanctified Art. Each week provides a chance for reflection on a Scripture passage and a chance to color a section of a "coloring calendar." Devotionals are available in the Narthex.
Wednesday, March 6
Ash Wednesday at Brookhaven Christian Church, 7pm
Communion
Sunday, March 10
First Sunday in Lent
Luke 4:1-13
Mike Watson Preaching
Sunday, March 17
Second Sunday in Lent
Luke 13:31-35
Mike Watson Preaching
Sunday, March 24
Third Sunday in Lent
Isaiah 55:1-9
Mike Watson Preaching
Sunday, March 31
Fourth Sunday in Lent
Luke 15:1-3, 11b-32
Mike Watson Preaching
Sunday, April 7
Fifth Sunday in Lent
Isaiah 43:16-21
Mike Watson Preaching
Sunday, April 14
Palm Sunday, Communion
Luke 19:28-40
Mike Watson Preaching
Thursday, April 18
Maundy Thursday, Communion
John 13:1-17, 31b-35
Mike Watson Preaching
Friday, April 19
Good Friday Tenebrae
John 18:1-19:42
Mike Watson Preaching
Sunday, April 21
Easter Sunday, Communion
John 20:1-18
Mike Watson Preaching