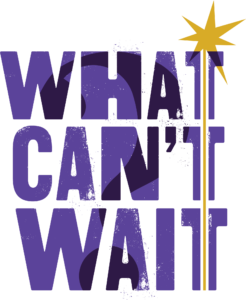 Advent and Christmas Worship Schedule
Advent is a season of waiting, but is idle waiting what God wants of us? In preparation for the coming Messiah, we wonder together— what things can't wait? What demands our immediate attention? What requires our work and preparation? What is it that God can't wait for? Is it our praise, reconciliation, and proclamation? Is it the end of suffering, isolation, and fear? This Advent, we invite you to join us in imagining, prioritizing, and preparing. As we wait, what can't?
December 1: First Sunday of Advent
Isaiah 2:1-5, Psalm 122
God's Promised Day (Hope) Can't Wait
Patrick Lane Preaching
December 8: Second Sunday of Advent
Isaiah 11:1-10, Matthew 3:1-12
Repentance (Peace) Can't Wait
Mike Watson Preaching
December 15: Third Sunday of Advent
Isaiah 35:1-10, Luke 1:46-55
Delight (Joy) Can't Wait
Mike Watson Preaching
December 22: Fourth Sunday of Advent
Matthew 1:18-25
Courage (Love) Can't Wait
Mike Watson Preaching
December 24: Christmas Eve
Luke 2:1-20, Isaiah 9:2-7
Service of Lessons and Carols
December 29: First Sunday of Christmas
Matthew 2:13-23
Storybook Sermon
Epiphany Series 2020: Gratitude
Gifts bring forth gratitude, and we express our appreciation by passing gifts on to others. When we share gifts, we become benefactors toward the well-being of all…gratitude is not a transaction of debt and duty. Rather, gratitude is a spiritual awareness and a social structure of gift and response. –Gratitude by Diana Butler Bass As we transition from the Christmas season of gift-giving into a new year, we are invited to consider our response to gifts, our expressions of gratitude. How can we dig deeper into our spiritual awareness of the gifts in our lives? Let us experience this season of gratitude together.
January 5: Epiphany Sunday
Matthew 2:1-12
The Gift of Unexpected Gifts
January 12: Baptism of the Lord
Matthew 3:13-17
The Gift of Committed Community
January 19: 2nd Sunday after Epiphany
John 1:29-42
The Gift of Unbridled Curiosity
January 26: 3rd Sunday after Epiphany
Matthew 4:12-23
The Gift of Bold Action
February 2: 4th Sunday after Epiphany
Matthew 5:1-12
The Gift of Poetic Challenge
Souper Bowl Sunday 
February 9: 5th Sunday after Epiphany
Matthew 5:13-20
The Gift of Public Witness 
February 16: 6th Sunday after Epiphany
Matthew 5:21-37
The Gift of Outrageous Grace 
February 23: Transfiguration Sunday
Matthew 17:1-9
The Gift of the Unpredictable Jesus
Mike out of town