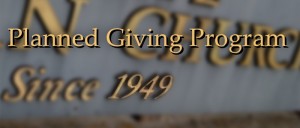 For more than 65 years, Oglethorpe Presbyterian Church has been an amazing part of God's transforming work in the world. We are reminded daily that we drink from wells we did not dig and feast from vineyards we did not plant. And yet, someone did. In our ministries and facilities, we are surrounded by a great cloud of witnesses. Those who have gone before us have offered their time, talents and treasure to partner with God's transforming work.
Endowment gifts are theological statements which demonstrate one's belief that we are never ultimately proprietors or owners, but only stewards, lifetime guardians entrusted by God to use wisely what God has placed in our hands. When an individual creates an endowment gift for the church during or beyond their lifetime, it declares to present and future generations the importance of our faith and trust in God.
Have you made plans to leave your legacy gift with us? You can make charitable contributions in the same way you might donate to any other charity.
If you are ready to proceed with a planned gift to Oglethorpe Presbyterian or would like more information, please contact the church office by email ([email protected]) or phone (404.233.5469). And if you have already included us in your planned giving, please let us know.