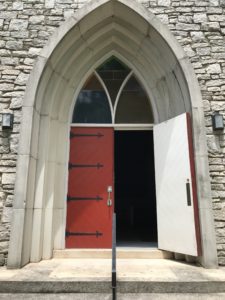 Connect.Grow.Serve.Belong.
The mission of Oglethorpe Presbyterian Church (OPC) is to provide living witness to the love of God and the ministry of Jesus through worship, study, fellowship, and service. Jesus commanded us to "Love the Lord your God with all your heart, and with all your soul, and with all your mind" and "Love your neighbor as yourself." (Matthew 22:37-39). As children of God, and followers of Christ, we at OPC seek to live out this Great Commandment by:
* Connecting with God, with one another, and with neighbors near and far. OPC's story is one that belongs to God. We are believers who desire to make the Kingdom of God manifest in this world. We want to become more invitational to those desiring to experience God's love. We strive to fulfill the promise of our baptism, and to acknowledge and accept diverse expressions of our Christian faith.
* Growing together as a faith community. OPC serves as a source of constant nurture for its members in all stages of life. We strive to strengthen our relationship with God through careful examination and application of God's word as perfected in the life, death, and resurrection of Jesus Christ.
* Serving others in grateful response to God's grace and mercy. OPC members are called to live for more than ourselves, to reach out both within and beyond the four walls of our church. Continuing the earthly ministry of Jesus, we use the gifts and resources we have received to love and care for one another, as well as to find new ways to minister to the greater society.