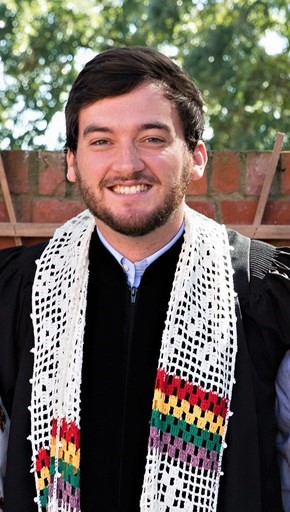 New Pastor Announced
We are pleased to announce that on October 22nd, the Pastor Nominating Committee (PNC) recommended, and the congregation approved by unanimous vote, Rev. Mike Watson as OPC's next pastor! The PNC concluded that Rev. Watson possessed the right combination of intelligence, warmth, energy, and preaching ability to make him the perfect fit for our congregation. His official OPC start date is January 1, 2018. Rev. Watson's first Sunday in the pulpit is expected to be January 7th. Stay tuned for more information, and prepare to give Rev. Watson an enthusiastic OPC welcome!



Meet Mike
Mike grew up nearby in the golf capital of the world, Augusta, Georgia. However, as his golf career was clearly not going anywhere, he soon found his call to ministry while at Presbyterian College in Clinton, South Carolina. He attended seminary at Union Presbyterian Seminary in Richmond, Virginia. After pastoral residencies at Broad Street Ministry in Philadelphia and Southminster Presbyterian Church in Richmond, Mike was called to University Presbyterian Church in Baton Rouge, Louisiana in the summer of 2012 where he worked with the Christian Education program, youth groups, and college outreach. Mike and his wife Melody were married in March 2016. They enjoy live music, going on adventures, and hosting people in their home. In his spare time, Mike enjoys pickin' on his guitar and mandolin. Mike is extremely excited about the call to Oglethorpe Presbyterian Church and looks forward to leading and joining the congregation in worship, fellowship, and service soon!
Education:
Union Presbyterian Seminary, M.Div. 2011
Presbyterian College, B.A. 2007 (Religion/Philosophy, History)
Work Experience:
Associate Pastor, University Presbyterian Church, Baton Rouge, LA
August 2012 to present
Pastoral Assistant, Southminster Presbyterian Church, Richmond, VA
May 2011 to June 2012
Seminary Communications Assistant, Richmond, VA
May 2011 to June 2012
Seminary Intern, Broad Street Ministry, Philadelphia, PA
September 2009 to August 2010
Seminary Intern, Arch Street Presbyterian Church, Philadelphia, PA
September 2009 to August 2010
Seminary Intern, Youth Director, Second Presbyterian Church, Richmond, VA
July 2007 to August 2009
Campus Ministry Intern, Presbyterian College, Clinton, SC
August 2004 to 2005, August 2006 to 2007
Applicant Information