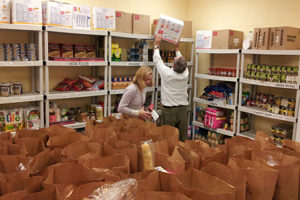 Mission and outreach are central to our identity at Oglethorpe Presbyterian Church. Our mission programs are a way to serve those in need and also provide opportunities for us to share our time, talents, and resources. 
Alcoholics Anonymous and Al-Anon
OPC provides meeting space to various groups, including Alcoholics Anonymous, Al-Anon, both of which are organizations providing hope for problem drinkers and their friends and families.
Atlanta Ministry to International Students (AMIS)
AMIS is a peacemaking ministry that connects students and scholars from other countries with host families for friendship and hospitality. OPC is one of the six founding churches of AMIS.
Bargain Shop Ministry
The Bargain Shop receives donations of pre-owned clothing and household items from the community. These items are sold three times a year at exceptionally low prices. Proceeds go directly to the Food Pantry. Over time, the Bargain Shop has become quite a tradition and gained a number of loyal customers who look forward to each sale.
Building and Grounds Ministry
Use your skills to assist in the care of buildings and grounds, from planting to cleaning up after storms.
Congregational Care Ministry
Providing prayers, friendship, support, cards and care to OPC members, we bring a smile to someone's face, provide or deliver meals, offer support in times of bereavement and organize receptions for memorial services.
Counters
Serving with integrity and quiet dedication, Offering Counters create a detailed report for the bookkeeper for recording. Along with greeters, counters provide a ministry of hospitality by welcoming worshipers and handing out bulletins.
Food Pantry Ministry since 1970
The Food Pantry provides Atlanta's needy families with canned goods, as well as fresh vegetables from Oglethorpe University's community garden. It is a collaborative effort of area churches and is housed at the Suthers Center in Chamblee. Help provide goods and/or volunteer your time.
Habitat For Humanity
OPC has partnered with Habitat for Humanity over the years and contributed thousands of dollars and hours to provide housing for deserving families in need.